New CBD restaurant Thai Tide opened a week before the first lockdown. Now, with seafood prices down, its takeaway offshoot Talay is delivering saucy, crustacean-centered dishes across Melbourne. And they're worth rolling up your sleeves for.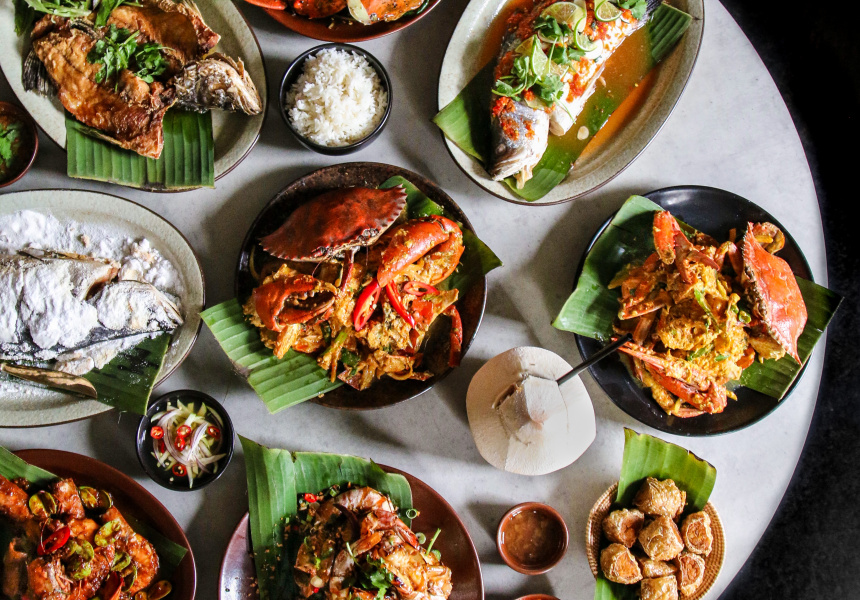 By the time my partner and I sit back after digging into the seafood feast from Talay by Thai Tide – no cutlery, just hands – there's crab meat all over my fingers, chilli jam down the front of my shirt, and our carpet is probably in need of a deep clean.
Despite that, I've got the biggest smile on my face, and a satisfaction in my belly that I haven't felt since before lockdown.
It might be from the meaty and juicy mud crabs (all the way from Darwin) or the sweet and spicy broth bobbing with clams. It could also be the caffeine pumping through my veins from the (very strong) Thai milk tea. Or perhaps it's just how all these elements come together.
Thai Tide is a new restaurant by Merica Charungvat, replacing her seven-year-old CBD eatery Fomo Thai (she also owned the now-closed Thai-ger burger bar). Inspired by the floating markets of her home country, it opened in March – just two weeks before the first lockdown.
"Closing down and waiting for dine-in to reopen wasn't an option for us … We're responsible for our staff and they're mostly not eligible for Jobkeeper," she tells Broadsheet. "Even though we don't earn a profit and we're actually in the negatives each day we open for takeaway, at least we have a chance to get through to the other side. We do everything we can to fight."
During the second lockdown, Thai Tide's takeaway offshoot, Talay, was born. The name means "sea" in Thai, and its specialty is Australian seafood cooked with traditional Thai flavours, sauces and ingredients.
Pre-pandemic, much of Australia's seafood was exported, but closed borders and reduced trade have seen domestic prices go down. And Talay is making the most of the affordable produce.
Each morning head chef Nutchanun Thongsawat visits markets in Footscray and Springvale to see what's on offer. Blue swimmer crabs are the most affordable option – and in-season spanner crabs are abundant – but the Northern Territory (minimum 800-gram) mud crabs are the star of the show.
Your choice of crab can be served three ways: steamed with nam jim (chilli-garlic sauce) on the side; stir-fried with spicy black-pepper sauce; or stir-fried with yellow-curry sauce. The crustaceans are cooked right before Talay's delivery drivers head out with your order.
Also on the menu: grilled tiger prawns with green chilli and lime; fried prawn cakes; clams stir-fried in chilli jam (which turns into a delicious broth); and a spicy, salt-crusted barramundi that's served whole. For dessert: Thai milk tea (or green tea) tiramisu; fresh mango with glutinous coconut rice; and coconut jelly.
There are also a number of set-menu options: a nam jim-covered seafood platter for two, with blue swimmer crabs, tiger prawns and steamed mussels ($65); a slightly more substantial option that includes prawn cakes and fried rice ($78); and another with almost everything on the menu ($158).
Charungvat's husband – a pilot for Thai Airways who hasn't flown since March – grew up in Thailand's south, near Phuket. Each year during the school holidays, they take their kids back home to see family and spend time at the beach, enjoying the salty air and year-long warm weather.
"Seafood is so widely available in Phuket … We just dine by the beach on plastic plates with drinks served in the whole coconut shells," says Charungvat. "[With Talay], you can feel like you're on a holiday – like you're by the beach – when in fact you're just at home."
And with every bite of tender crab meat, I can almost feel that ocean breeze.
Find the full menu and pick-up and delivery details here and order here.